---

This video of celebrities like Jessica Alba and Katy Perry reading mean tweets is the best video of infidels reading things against their will I've ever seen… that doesn't end with a beheading.


Twitter is a vital tool in the jihad against the infidel celebrities as it provides a direct line of communication to the PR intern hired to run the celebrity's account, and is the perfect medium for conveying colorful insults and physical threats.


I urge all celebrity jihadists to take to Twitter and let these Zionist tools know that they are the scum of the earth, and us Muslims will soon have their heads on a pike.

---

Big shot movie star Ryan Gosling won't eat his damn cereal!


As you can see in the video above, Ryan Gosling repeatedly refuses to eat his cereal. Does Ryan think that because he is a hunk he doesn't need to eat a good breakfast?


Ryan Gosling is going to learn the hard way that being a Hollywood stud muffin with great bone structure, a chiseled abdomen, thick veiny penis, and tight anus won't matter when his blood sugar crashes in the early afternoon because he skipped eating breakfast.

---

Frumpy host Olivia Munn brazenly pulls out her shameful lady nipple on live TV in the video above.


This video shows the hypocrisy of the infidel West. Olivia Munn exposes her nipple to millions of people on television, and she does not receive so much as a lashing for her crime. However, a Muslim like myself pulls out his tunic snake and ball sack at a playground and all of a sudden he committed a "sex crime".


America truly is a nightmarish hellscape in which women like Olivia Munn are allowed to flaunt their sex organs with impunity, and a Muslim man can not even innocently tea bag a child without being persecuted as a criminal.

---

MTV star Farrah Abraham released her first sex tape video titled "Farrah Superstar: Backdoor Teen Mom".


Of course this is the perfect title for Farrah's sex tape as she is a superstar in the West for getting knocked up in high school, and appearing on the MTV shows "16 and Pregnant" and "Teen Mom". The backdoor part is obviously a reference to the exit guys throw Farrah out of after banging her in the butt, so as not to be seen with this camel-faced skank.


As you can see in this clip from the Teen Mom Farrah sex tape, (like all women) she is whiny and demanding until a hard cock is stuck up her ass and she learns her place. The full sex tape is said to feature even more anal, and Farrah squirting sin juices out of her lady cave.

See the Full Tape Here
---

Pop star Justin Bieber has paid the price for daring to take his homoqueer stage show to Dubai in the proud Muslim country of the United Arab Emirates.


As you can see in the video below, while Justin Bieber is lip-syncing and pretending to play the piano to some horrible song about the first time Usher fingered his butthole, a righteous Muslim jihadist rushes on stage and tackles Justin to the ground.


Unfortunately our courageous Muslim brother's suicide vest failed to detonate. However, Justin Bieber did not get away unscathed as after a thorough medical examination it was determined that Justin has suffered a prolapsed anus, and must now abstain from homosex for 3 weeks. Which to Justin Bieber will no doubt seem like a lifetime.

---

Former child star Dakota Fanning appears to have had the sex tape video above leaked to the Internet.


Growing up in heathen Hollywood, Dakota Fanning has no doubt been on the business end of a dick more than a few times. That is probably why she seems bored, and doesn't even bother removing her sunglasses for the first half of this sex tape.


Of course as the sinful sex session progresses, and Dakota Fanning begins taking it balls deep in her anal cavity she starts to come to life. The lesson here of course is that when banging an infidel celebrity like Dakota Fanning it is best to go right to deep-dicking her fart box, as anything less extreme is simply too mundane for a seasoned celebrity whore.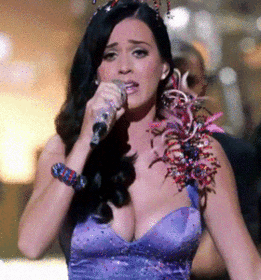 ---

In a desperate attempt to distract from her horrible voice and utter lack of musical talent, pop star Katy Perry bounces her breasts while singing in the video above.


Katy Perry's breasts appear to be quickly losing their fight with gravity and will soon be smacking against her knees which will surely spell the end of her pathetic music career.


However, all is not lost for Katy Perry. Us Muslims could still find a use for her in our salt mines using her big bouncing breasts to smash through rock, and the wailing of her off-pitch singing to keep wild animals from the camp.