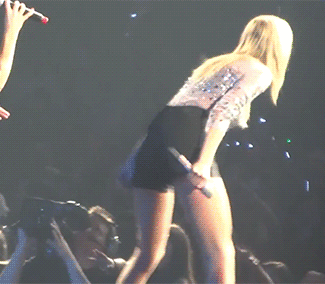 ---

Taylor Swift bends over and shakes her ass back and forth in the disturbing video above.


What kind of a lewd sex show is Taylor Swift putting on here? Thank Allah this video cuts off before Taylor shoves that phallic microphone right up her rectum.


Truly this Taylor Swift ass shaking video proves that she is a degenerate of the first order. The fact that infidels in the audience do not stone her right were she stands, speaks volumes about how hopelessly depraved Western society is.

---

Taylor Swift can not help but feel up her breast while performing one of her satanic songs in the video above.


There is no doubt that Taylor Swift's music promotes all sorts of masturbatory impulses (along with various other sexual perversions), so it should come as no surprise that Taylor herself would succumb to self-pleasuring while on stage.


Frankly we are lucky that Taylor Swift only squeezed her boob and didn't drop her shorts, spread her legs, and start flicking her sin bean right there on the stage. Allah knows if she was performing that song "22″ she damn well might have.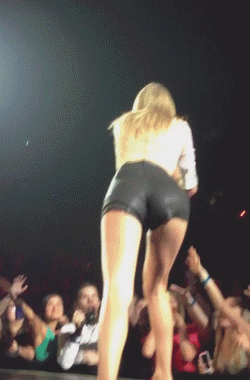 ---

Taylor Swifts bends over to show her ass while in tight leather shorts in the video above. Clearly Taylor Swift is trolling for some backdoor loving with one of her fans by flaunting her butt while in concert like this.


Though it is obvious that Taylor desperately wants to get her butthole stretch by a violent anal pounding she is going to have a hell of a time finding any takers, as just one missed thrust slipping out of Taylor Swift's sphincter will likely cause a man to break his dick in half against her boney ass cheeks.


Add to that the fact that every one of Taylor Swift's male fans is a flaming homoqueer, and you have yet another lonely night for Ms Swift.

---

Pop star Taylor Swift appears to be naked with her legs spread by some sort of swamp (possibly an estuary) in the photo above.


Obviously it suits Taylor Swift just fine to be naked in a swamp like environment, as the smell of the rotting vegetation should mask the pungent odor emanating from her diseased lady hole.


What Taylor Swift hopes to get out of showing her moist pussy way out in the wetlands like this is anyone's guess. Personally I'd rather f*ck the wetlands as they are less clingy, and probably considerably tighter.

Below are the top 12 slutty celebrity social media pictures of the week.


#12 Katherine Webb


Katherine Webb shows some cleavage on Instagram. I guess she wasn't told that a new college football season started, and no one gives a crap about her anymore.
---

#11 McKayla Maroney


17-year-old Olympic gymnast McKayla Maroney shows off how good her butt looks in high heels and skinny jeans. Personally I think it would look better pulling a plow in my poppy fields.
---

#10 Vanessa Hudgens


Vanessa Hudgens stands at the edge of cliff with no intention of jumping… what a cock tease.
---

#9 Jennette McCurdy


Nickelodeon star and mudshark Jennette McCurdy shows off a tight dress that she won't be fitting into soon when she becomes a single mother.
---

#8 Kendall Jenner


Kendall Jenner sits on the windowsill of a crack house waiting for her ghetto prince charming to come and tap her ass on video, so that she can be a superstar like her big sister Kim.
---

#7 Miley Cyrus


Muslimina Miley Cyrus doing her hilarious impersonation of a Western meth whore.
---

#6 Britney Spears


Britney Spears tucks her thick meaty cock between her legs for this bikini pic.
---

#5 McKayla Maroney


McKayla Maroney posing in a bikini by a pool with some friends, only one of which is plow-worthy (#4)… and I mean that in every sense of the word.
---

#4 Ashley Benson


"Spring Breakers" star Ashley Benson contemplates String Theory and the Multiverse while showing some deep cleavage.
---

#3 Taylor Swift


Taylor Swift and her girlfriend jump for joy in bikinis because they are f*cking dykes and probably just got a new double-sided dildo.
---

#2 Anastasia Ashley


Pro surfer Anastasia Ashley walks the streets of Spanish Harlem with her ass cheeks hanging out the bottom of her jean shorts in the hopes of riding the famous Puerto Rican rape wave.
---

#1 McKayla Maroney


McKayla Maroney displays her barely illegal cleavage while smiling at a butterfly as Muhammad smiles down upon her fresh taut nubile body.
---

School has just started in the infidel West, and pop star Taylor Swift appears to be welcoming students back by coming to schools for "show and tell" and pulling down her panties.


As you can see in the photo above, it looks as though Taylor Swift gives Mrs Horner's kindergarten class quite a show as she drops her panties and climbs on a desk. Of course the always inquisitive little Tommy Johnson couldn't help but ask why Taylor's special area smells like wet garbage, to which Taylor replied "I knew you were trouble when I walked in" to the delight of the children.


Truly this Taylor Swift naked "show and tell" picture perfectly illustrates just how hopelessly depraved the Western education system is, and proves beyond a shadow of a doubt that girls have no business being in the classroom.