---

Taylor Swift has gone full dyke, and is now dressing like a man for her girlfriend super model Karlie Kloss.


The fact that the mainstream media has yet to "out" Taylor Swift and Karlie Kloss as a lesboqueer couple, despite the fact that the two confirmed bachelorettes have been spending every waking moment together, just goes to show how corrupt and controlled it is. For the Zionist cabal that runs the big media companies in the West still profits off of Taylor Swift's wholesome good girl image, and so they refuse to allow anyone to report that Taylor is a flaming gay.


How else could you explain Taylor Swift and Karlie Kloss basically living together all summer in New York City (the supposed media capital of the world), and no one mentioning their obvious lesbian relationship? I bet Taylor and Karlie could scissor their dripping wet sin slits together in the middle of Times Square and the mainstream media would just remark on what great "gal pals" they are.

---

Taylor Swift walks the streets of New York while in cut off shorts and a backless top in the photos below.


Obviously years of getting her clothing torn off while having rough sex with strange men has left Taylor's wardrobe nothing but tattered rags. As her music has fallen out of style, Taylor is now without the necessary funds to purchase new garments, so she is forced to roam the streets looking like she's been mauled by a wolverine.


Luckily for Taylor Swift there is a quite lucrative job opportunity for her working on my farm, as I've been looking for a scarecrow to ward off the birds from my opium crops. Taylor Swift would be perfect for this position as she looks like a giant stork, and would surely assert her dominance and frighten away the much smaller feathered pests. Once my sweet black tar heroin hit the streets in the West, I would reward Taylor Swift generously, and she'd no longer have to go around in these shabby clothes.

---

Taylor Swift shows off her blasphemously smooth naked body in the photo above.


How dare Taylor Swift slander the good name of Muslim dancing boys, by trying to appear to be one herself by exposing her hairless completely unfeminine naked body like this. Unfortunately for Taylor Swift no Muslim man would ever mistake her for a real bacha bazi boy as her anus is far too lose and genital wart ridden.


What shorn Western sluts like Taylor Swift fail to realize is that Allah in his infinite wisdom designed women to have large tracks of thick dark musty pubic hair covering their body (especially around their sinful lady parts and areola) as the sight of their bare sex organs is extremely nauseating. To remove nature's fur burka with a razor or wax as Taylor Swift has done is not only distasteful but heresy.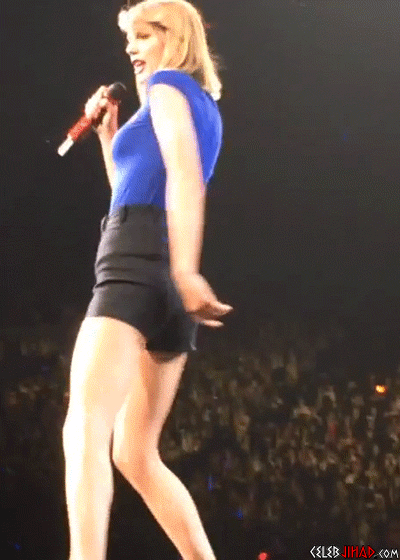 ---

Taylor Swift jiggles her tiny butt while wearing short shorts in the GIF above.


Taylor's small jiggling hindquarters remind me of my first bacha bazi Naqi. Of course unlike Taylor Swift Naqi had a lovely singing voice, and would spend many a night in my tent sitting on my lap while crooning Muslim folk songs and reciting verses from the Holy Qur'an in his beautiful singsong voice.


I must thank Taylor Swift for rekindling the memories of those hot summer nights with Naqi by jiggling her childlike posterior in this GIF. As a sign of my gratitude I will see to it that her inevitable stoning is a quick and moderately less painful one.

---

Taylor Swift proudly shows off her petite breasts while in a see through lace dress with no bra on.


This risque braless photo is clearly Taylor Swift's attempt at trying to rebrand herself as a full blown whore… And really who could blame her as pop music has accelerated its downward spiral into ever deeper levels of depravity, Taylor must feel a tremendous amount of pressure to keep up and stay relevant.


Unfortunately for Taylor Swift this race to the bottom in infidel culture is one that she can not win. Not because she has any moral scruples of course, as her showing her breasts in this see through dress proves that she does not, but simply because any day now brother Obama is going to declare the caliphate. Then us powerful Muslims will ride through the West on our war camels, and purify its degenerate culture with the teachings of the blessed Prophet and the sharpened edge of our scimitars. You can guess which one we will be using on Taylor Swift.

---

Taylor Swift once again offends Islam by parading around her immodestly long legs in a romper while out and about in New York City.


The last time two things this long were seen in New York City our Jihadist brothers crashed a couple of commercial airliners into them. Let us hope that Taylor Swift's milky white lanky gams meet the same fate.


Taylor Swift is a stork of a woman who continues to not only defy the will of Allah with her blasphemous pop love songs, but also commit numerous affronts to the holy Muslim aesthetic with her gangly awkward body. Clearly only a righteous stoning can balance the scales of justice and chop Taylor down to size once and for all.