---

Taylor Swift coyly drops her panties to her knees in the scandalous photo above.


Clearly Taylor Swift would like the moronic infidel public to think of her as a "good girl", while still getting more poles stuffed inside of her snatch then an Auschwitz shower stall.


That is why Taylor Swift keeps having these "wardrobe malfunctions", including this one of her panties slipping down. They allow Taylor to be seen in a sexual light without completely compromising her "good girl" image. Unfortunately for Taylor us Muslims aren't buying it, and she will pay dearly for her crimes.

---

As every Muslim knows, goats are far more musically talented and attractive than Taylor Swift.


That is why it comes as no surprise to see a goat completely outshine Taylor Swift in this video remix of her hit song "I Knew You Were Trouble".


In fact it is almost worth listening to Taylor Swift screech out her horrendous verses just to get to the chorus and the beautiful melodious sounds of the majestic (and lets face it down right sexy) goat in this video.

---

Taylor Swift once again shows why she is considered one of the most degenerate gutter skanks in the heathen entertainment industry, by bending over and flashing her thong in the upskirt video above.


It seems pretty clear that Taylor Swift arranged for this upskirt video in the hopes of luring men into sodomizing her (probably) gaping anus.


Taylor Swift will then use the encounters to write hit songs about love and loss for her next album, with tracks like "Lube Drops On My Bedspread", "Backdoor to December", "Tim McGraw In My Asshole", "Lube Belongs In Me", and "We Are Never Ever Banging My Ass Together".

---

Taylor Swift suffered an epic wardrobe malfunction while walking the red carpet at The Grammys yesterday.


As you can see in the photo above, Taylor Swift's dress "accidentally" fell off revealing her completely nude body. Predictably this shameful display by Taylor Swift comes after CBS warned those in attendance not to wear revealing outfits or have slutty wardrobe malfunctions.


If CBS was serious about stopping whores like Taylor Swift from spoiling The Grammys they'd make burkas mandatory, and allow us pious Muslims to line the red carpet instead of photographers. We'd turn that carpet a darker shade of red with the blood of the infidel offenders, ensuring a Islam approved family friendly award show once and for all.

---

It appears as though Taylor Swift enjoys a day out in the park bent over in the nude photo above.


This brazen display of public sexuality is what is known as "dogging". Dogging is when sluts like Taylor Swift go out in public parks and have sex with strangers, who are usually crack-addicted vagrants.


The hobos in this park may enjoy violently penetrating Taylor Swift's nude orifices, but they should be warned that she'll almost certainly become overly attached to them, claim they are in love, and then write a song accusing them of playing games with her heart.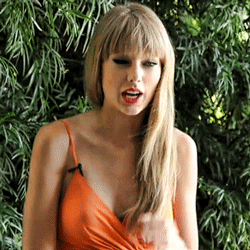 ---

It has been nearly a month since Taylor Swift had a boyfriend that she can later trash in a song, and it appears the singer is getting desperate.


As you can see in the video above, Taylor Swift's nipple seems to be visible through her dress as babbles on about nonsense like the moronic whore she is.


Since Taylor Swift has such a checkered past with guys, it would be surprising if this nipple display got her a new boyfriend. If Taylor is serious about getting a new man to give her something to write about, she is probably going to have to flash her asshole.

---

Lesbodykes Taylor Swift and Emma Watson were the big winners last night at the 1st Annual Lesbo Awards in Los Angeles.


As you can see in the photo above, both Taylor and Emma picked up crystal vagina shaped "lezzies" for their extensive contributions to lesbianism in 2012.


Taylor Swift won the award for "Best in Beards" for her exhaustive work in hiding her lesboness by having asexual relationships with fame whore guys. However, Emma Watson won the big award of the night, beating out favorite Kristen Stewart for "Best Jawline For Carpet Munching".


The night ended on an awkward note however, as longtime lesboqueer Jodie Foster received the Gertrude P. Beanflicker Lifetime Achievement Award, and she delivered the long rambling speech below with her girlfriend's pubes stuck in her teeth.