---

Comic book nerds throughout the heathen Western world are green with envy over this new photo from the set of "The Avengers" which appears to show actor Taylor Lautner after his flamingly homosexual superhero character "Sir Lance Featherbottom" sucked off The Incredible Hulk.


Of course Taylor Lautner was the perfect choice to play Featherbottom (whose super power appears to be a lack of a gag reflex and a super-humanly low T-Cell count) because he himself is a gay.


No word yet on how many of the beloved Marvel superheroes Taylor will blow in "The Avengers", but knowing what we do about the Hollywood homosexual agenda a conservative estimate would be 7… and he'll bottom for 3.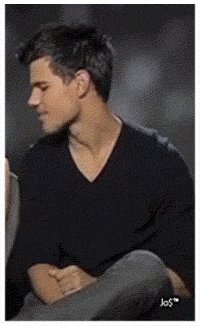 ---

Taylor Lautner made headlines yesterday when someone leaked the People magazine cover for when he finally decides to come out as a gay. Upon hearing the news Taylor was overcome with the vapors, and when he finally composed himself he had his rep claim that the report was not true.


Thankfully we do not have to wait for Taylor Lautner's inevitable "official" coming out party to denounce him as a vile sodomite that must be purged of his deviant homoqueer longings, for we have uncovered the video above of Taylor being extremely gay.


Taylor Lautner couldn't be acting more gay in this video if he was listening to show tunes while sucking off a dude and taking his AIDS medication. If this video doesn't remove the last bit of doubt that Taylor Lautner is a limp-wristed power bottom then nothing will.

---

Closet queen Taylor Lautner is involved in a legal spate with Brent McMahon, who owns McMahon's RV in Irvine. Apparently McMahon's RV was supposed to deliver a customized trailer equipped with fainting couches, plush rugs, and 6 bidets, for Taylor Lautner to use as his personal dressing room during the filming of his new movie.


However, McMahon's RV ran into trouble finding enough ostrich feathers for the trailer's tickle station and had to deliver the trailer late to Taylor. Of course Taylor Lautner promptly threw a huge diva fit when his precious trailer had not arrived on time, and immediately contacted his lawyer to file a lawsuit against McMahon's RV.


Earlier this week Brent McMahon suggested that they settle this lawsuit like men and challenged Taylor Lautner to a good old fashioned push up contest. Reportedly Taylor Lautner has declined the challenge citing his sensitive wrists as the reason.


Though Celeb Jihad has learned that Taylor Lautner may be issuing a counter-challenge to Brent McMahon. Taylor is reportedly thinking of challenging Brent to compete in a serious of events to settle the lawsuit. They would include seeing who can walk the farthest with a quail's egg in their ass without breaking it, who can sing the most songs from Roger and Hammerstein musicals, and who can suck the most c*ck in an hour.


Brent McMahon has yet to respond.

---

Foppish lady boy Taylor Lautner was photographed on the set of his new movie being shaded by a giant umbrella whilst getting a fan blown in his face.


Apparently while filming a scene Taylor Lautner came down with a case of the "vapors". He tried dabbing a nice cool wet lace handkerchief to his forehead, but he still felt a swoon coming on.


Taylor was rushed under an umbrella were he was fanned and pampered. Luckily Taylor's friend Ramon was on set, and he occupanied Taylor to his trailer with an emergency supply of fresh cut strawberries and chilled raspberry wine.


Six hours later Taylor Lautner was able to return work refreshed and relaxed, but with a noticeable limp.

---

Taylor Lautner, who plays Jacob in the "Twilight" movie series, got into a confrontation with a small girl at a bowling alley in Inglewood yesterday.


According to witnesses, Taylor Lautner showed up at the bowling alley by himself, and proceeded to loiter in the boy's bathroom for a good 3 hours. He then was making his way to the exit when a small girl shouted, "Team Edward!"


This apparently struck a nerve with Taylor who confronted the small child and asked her "what the f*ck her problem was". The girl responded with "You're my problem f**got and I suggest you gets to stepin before I beat your homo wolf a**."


A source close to the scene reports that Taylor's eyes welled up with tears, and it appeared as though he was going to slap the girl. However, the girl's mother intervened and Taylor Lautner was escorted out of the bowling alley by one of the pimply faced teens that work there.

---

One of the perks of being a celebrity is that you get to f*ck pretty much anything you want. Animal, vegetable, mineral, it is all game. So naturally with all that f**king going on celebrities have developed distinct "sex faces".


We've been lucky enough to capture a few on camera, as well as some interesting sexual facts about some of Hollywood's biggest stars. Enjoy!

---

Name: Mandy Moore
Interesting Sex Fact: Mandy is so uptight in bed that she has yet to achieve orgasm with a man. Horses on the other hand are a different story.

---

Name: Cameron Diaz
Interesting Sex Fact: Cameron enjoys babbling on about her day during sex.

---

Name: George Clooney
Interesting Sex Fact: Farts loudly during sex then pulls the cover over his partners head.

---

Name: Anne Hathaway
Interesting Sex Fact: Farts loudly during sex then pulls the covers over her own head.

---

Name: Gisele Bünchen
Interesting Sex Fact: Gisele favorite sexual move is called "The Dicaprio"… don't tell Tom.

---

Name: Amy Winehouse
Interesting Sex Fact: Amy can only achieve orgasm after a vigorous session of anal fisting.

---

Name: Kristen Stewart
Interesting Sex Fact: During sex Kristen Stewart's lower lip bites her.

---

Name: Tiger Woods
Interesting Sex Fact: Tiger Woods likes sex… a lot!

---

Name: Kristen Bell
Interesting Sex Fact: Kristen Bell can shoot a ping pong ball 50 feet out of her vah jay-jay

---

Name: Robert Pattinson
Interesting Sex Fact: Robert's pubic hair is longer than his penis.

---

Name: Taylor Lautner
Interesting Sex Fact: Taylor has only 1 testicle, and it is small and misshapen.

---

Name: Katy Perry
Interesting Sex Fact: Katy tossed a girl's salad… she didn't like it.

---

Name: Heidi Montag
Interesting Sex Fact: Heidi cries during sex, and that just makes Spencer want to f*ck her harder.

---

Name: Kate Gosselin
Interesting Sex Fact: Kate feels no sensation in her vaginal region anymore.

---

Name: Justin Timberlake
Interesting Sex Fact: Justin greatly enjoys anal. Receiving not giving.

---

Name: Miley Cyrus
Interesting Sex Fact: Miley is a screamer. Her dad had to sound proof their house.

---
Fresh off the success of
Twilight: New Moon's
box office success, Taylor Lautner did not mince words when describing the film franchise as "bigger than Jesus" and "1000 times cooler than some pesky Jew god in the sky."
"
Twilight: New Moon
is like the crucifixion and the resurrection all rolled into one," said Lautner. "Jesus Christ ain't got nothing on this movie."
Lautner, who went on to call the pope a "wack-ass Nazi bitch," also suggested that teenage fans of the film should stop going to church.
Added Lautner, "Church is for losers; our fans should all worship vampires and shit."