---

A bottomless Victoria Justice jumps up on the kitchen counter and spreads her legs to show off her smooth hairless pussy in the photo above.


This is an outrage! How dare Victoria Justice take time out from her kitchen duties, and break numerous sanitation laws to flaunt her vagina like this.


Victoria Justice's master is going to be pretty upset when he comes home to find that his dinner is undercooked and infected with herpes, because of Victoria's slutty kitchen antics. I wouldn't be surprised if he put Victoria Justice on the next train back to her home in the Mexican nation of Cuba.

---

Scarlett Johansson looks pretty pleased with herself while spreading her legs in the naked photo above.


This is because infidel women like Scarlett Johansson think that shamelessly flaunting their disgusting sin holes some how makes them enlightened and empowered.


Unfortunately for Scarlett Johnasson that look of self-satisfaction will not last for long. For when the first righteous stone smashes against her smug face she will learn the painful lesson that the only enlightened position for a woman is on her knees in service to a Muslim man.

---

Actress Kristen Bell appears to be in her natural state, spreading her legs while naked in the photo above.


When Kristen Bell isn't starring in horrible "romantic comedies" she is probably down at the Hollywood docks, getting her orifices pumped by anything with a pulse and a compliment.


All actresses in heathen Hollywood are degenerate whores, but some (like Kristen Bell) take their depravity to nearly unfathomable levels as this naked picture shows.

---

The photo above appears to be of actress Megan Fox naked with her legs spread wide.


If this is Megan Fox, she is obviously either trying to either push out another baby, or she is auditioning for a role in a new Michael Bay movie.


Either way this means that another abomination is about to be unleashed upon the world, and Megan Fox's lady hole is to blame.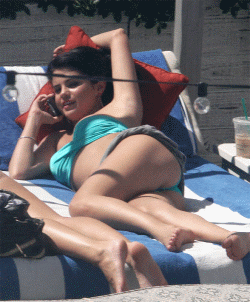 ---

The pics of Selena Gomez spreading her legs in a bikini from earlier this week have been made into a video.


Only a video could properly capture this brazenly whorish act by Selena Gomez, as she shamelessly spreads her legs and thrust her pelvis with erotic desire.


Clearly Selena is in heat and needs to have the hose turned on her before she is completely consumed by her lust and foam coats her aching swollen red lips… both pairs.

---

Selena Gomez is the picture of an infidel "lady", spreading her legs while wearing a bikini in the photos below.


Of course Selena Gomez airing out her stinky Mexican lady hole was not without causalities as fellow pool-goers began vomiting uncontrollably while questioning the existence of a loving God that would allow such a smell into the world.


When Selena Gomez's rancid vagina stink was picked up by the wind, residents in the surrounding area clogged up the local fire department's phone lines with reports of a Taco Bell on fire, as the stench of burnt cheap Mexican food was unmistakable.