---

Selena Gomez appears to have been photographed completely naked floating in a pool.


Throwing a woman of questionable repute like Selena Gomez into a body of water is one of the best methods us Muslims use to determine her chastity.


If the woman floats (as Selena Gomez does in this naked pic) it means she is a whore full of swimming sperm, and she should be stoned at once. However, if the woman sinks and drowns it means that she was pure, and her father should be compensated with a bushel of figs for his loss.

---

After thoroughly examining and then reexamining the bikini pics below of Miley Cyrus at a pool in Miami, I have determined that (as a good Muslim) Miley was carrying out a Jihadist attack on the infidels.


As you can see in these pics, Miley Cyrus is a master of disguise and blended in perfectly with the infidel pool-goers in her slutty skimpy bikini. No suspicions were raised as Miley carried out her mission of urinating in the pool, coating the unsuspecting kuffars in her pious Muslim piss.


By dressing in a bikini Miley Cyrus was able to go unnoticed as she peed all over the infidels. Truly this was a brilliant strategic ploy which lead to yet another great victory for Islam over the heathen US of A.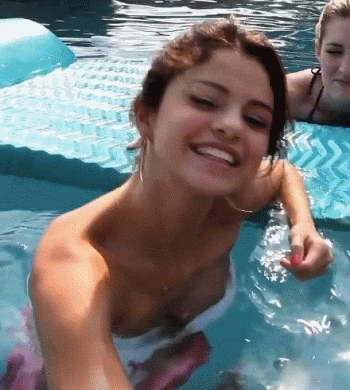 ---

Actress, pop star, and filthy Mexican degenerate, Selena Gomez brazenly films herself in a pool in the video above.


Notice how Selena's cleavage heaves as she cackles mischievously. Clearly she is up to no good in this vid, and is probably so amused because she is urinating in the pool.


It is unfortunate that Selena did not electrocute herself while filming this video. Maybe next time we will get lucky and she will try videotaping herself in a bathtub with a toaster.

---

Rachel Bilson must think she is real hot sh*t. Just look at these candid photos taken of her wearing a designer dress while sunning herself by a pool.


Doesn't Rachel Bilson know we are in a recession? When people are struggling to put food on the table it is in extremely bad taste to flaunt your enormous wealth like this.


Celebrities think they rule the world, and Rachel Bilson is a perfect example of that. She could care less that people are starving in the streets just as long as she has a new fancy gown to wear when she is swimming laps in her lavish pool.


See for yourself Rachel Bilson's sickening display of wealth in these candid photos of her by a pool.