---

Megan Fox cools off in the ocean while completely topless in the shocking photo above.


How dare Megan Fox pollute the ocean with her sinful titties like this. People worry about minor things like radiation from Japan's Fukushima reactors, islands of garbage floating in the Pacific, or the toxic chemicals used to break down the oil from the BP Gulf disaster; yet fail to see that the real danger to our oceans' ecosystem are dijinns from the sex organs of Hollywood sluts like Megan Fox.


With Los Angeles being right on the coast, think of all the Hollywood whores like Megan Fox who go in the ocean and soak their disgusting lady bits. Is it any wonder that fish caught in these oceans taste so fishy? Coincidence? I think not!

---

"Transformers" star Megan Fox unwraps her nude body for Christmas in the photo above.


Megan Fox naked is the gift that keeps on giving. Of course by that I mean that Santa will need treatment for years after contracting gonorrhea carrying this slut down the chimney.


Like a fruit cake this worn out old whore has certainly been re-gifted one too many times, and just like that fruit cake ingesting the sight of Megan Fox naked will have you spewing out of both ends while wishing you'd just got an Amazon gift card so you could buy a younger hotter nude actress with better reviews (they have everything on that site).

---

"X-Files" star Gillian Anderson has reportedly admitted to having a lesbian affair with Megan Fox while the two filmed the movie "How to Lose Friends & Alienate People".


This is disgusting! The thought of Gillian Anderson taking Megan Fox into her trailer and grabbing the back of her head and kissing her hard, rubbing her ample tits against Megan's is nauseating.


Of course not nearly as nauseating as Gillian licking Megan's hard nipples with the tip of her tongue and then slowly down her stomach to her pussy, Megan's legs spreading as Gillian licked the inside of her thigh and blew cold air over the wet part of her pussy.


However, that is nothing to the revolting image of Gillian lightly brushing Megan Fox's swollen pussy lips with the very tips of my fingers, before pressing her mouth against Megan's hot slit sliding her tongue along the length and up to Megan's clit.

---

Actress Megan Fox's wet dress clings to her breasts accentuating her hard nipple in the photo above.


Megan Fox appears to have received a golden shower from director Michael Bay in exchange for yet another undeserved starring role in one of his horrible movies.


As the acidic smell of ammonia from her urine soaked dress wafts up into Megan Fox's nostrils, she can not help but become aroused. For like all women Megan Fox desires nothing more than to be put in her proper place by being degraded and abused by a powerful man.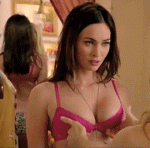 ---

Megan Fox giggles like a school girl after getting her boobs jiggled in this outtake from the film "This Is 40″.


Clearly Megan Fox would like us to believe that she has ticklish tits, but it is obvious that she is intentionally breaking character in this scene so that she'll get her breasts fondled again.


A lecherous woman like Megan Fox can never get enough boobie attention. In fact I bet if we ever met she'd smash her chesticles right into my face. Then we'd find out for sure if her tits are ticklish, as my mighty Muslim beard would rub against them while I give her impertinent infidel milkmakers a good tongue lashing.

---

It looks as though Megan Fox is trying to stay relevant by slipping her nipple while zipping up a leather jacket in the photo above.


Of course this nipple display will help generate some buzz for Megan Fox, but it is not going to be enough to make people forget about her horrible acting and jump start her failing career.


If Megan Fox is serious about regaining the spotlight despite her complete lack of talent she is going to have to at least gap her ass for the camera. It is either that or she'll have to keep f*cking Michael Bay so that he continues casting her in his stupid movies, but the ass gaping is obviously the less painful choice.