---

The pictures below should leave little doubt once and for all that Celeb Jihad is a force for good in this world, as we have been warning for years (2009, 2010, 2011) that former Disney star Demi Lovato is nothing more than a common floozy and a horrible role model for her fans.


Now with these pictures of Demi Lovato simulating various sex acts (like oral and anal) on stage with multiple men, we have been proven indisputably correct in our original assessments of her.


Infidel parents feast your eyes upon Demi Lovato corrupting the youth of the West! We tried to warn you, but you didn't listen. Now you will have to deal with your daughter's future outbreak of anal warts, thanks to your stubborn ignorance and Demi Lovato.
---

Former Disney star Demi Lovato flaunted her boxy chest and uneven prematurely sagging breasts at the Mexican Grammy Awards yesterday.


Clearly Demi Lovato has hit a new low by prostituting her wide body and deformed cleavage for a Mexican award show like this. However, one can not help but wonder how low Demi Lovato will eventually sink to maintain some form of fame.


My guess is that Demi Lovato has not even begun to scratch the surface of the depravity she is willing to partake in. I'd be willing to bet a large amount of figs that Demi Lovato will soon be slipping nipples, flashing panties, and bearding for Justin Bieber just to stay in the spotlight.

---

Former Disney star Demi Lovato is a hateful bigot! Just look at this photo of her wearing a racist monkey hat, openly mocking the Asian chinks and albino spooks.


Muslims are of course the most accepting, least racist people in the world. So if there is one thing we can not stand it is ignorant bigotry, especially from moronic filthy half Mexican women like Demi Lovato.


This picture sickens me, just looking at it I can hear Demi Lovato and her friends giggling while making those stupid faces and saying, "Look at us we are Asians with beady little eyes and pointy ears. We like to do math and die in tsunamis."


Demi Lovato and her friends need to be taught the meaning of tolerance by being stoned to death for this offensive display. It is the only way these hateful dumb bitches will learn! Allahu Akbar!

---

Portly former Disney star Demi Lovato masturbates on stage in front of her fans in the photo above.


Demi is probably fantasizing about the enormous meal she is going to stuff in her fat face once she gets off stage. Her gut appears to have already split through the center of her outfit in anticipation of being bloated with junk food.


Demi Lovato masturbating in public to the thought of food is a new low for her. Her gluttonous appearance is an offense to Allah, and Demi should seriously consider restarting her eating disorder… and her cutting.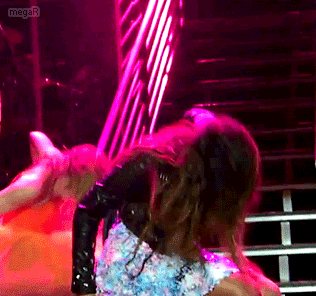 ---

Former Disney star and future tremendous lard ass Demi Lovato continued her slutty onstage antics in the video above by spreading her legs for an upskirt panties shot and then humping the air… twice!


Thank Allah that Demi Lovato was at least wearing bulky spandex panties to suck in her fat gut, or we may have been inflicted with a shot of her disgusting vagina… which I can only imagine is as fat and crazy as she is.

---

These shocking pictures of former Disney star Demi Lovato were taken at her new traveling sex show.


Demi Lovato performing in a low grade pornographic stage show should come as no surprise to anyone who has been following Demi's career. What is surprising though is the speed at which Demi Lovato's showbiz career has deteriorated to this point. It seems like only yesterday Demi was pretending to be a "good girl" on the Disney channel show "Sonny with a Chance", and now she is prostituting herself in public.


As you can see in the photos below Demi Lovato flashes her boobs and ass, spreads eagle, and then performs fellatio on a male member of the audience all in the name of entertainment. Truly the day has come when Demi Lovato has come out as the vile gutter skank we always knew she was.
---

Disney star Demi Lovato continued her futile attempt to be sexy by showing off her new fake breasts in a tight red dress in the photo above. Unfortunately for Demi Lovato she is built like a house, and looks like a linebacker with tits in this photo.


If Demi Lovato is really serious about this "sexy" image she is going for, perhaps she should work on being less of a fat ass. Now I appreciate breeding hips as much as the next guy, but there is a difference between a sturdy woman who can work a plow then squat down in the field and birth a son, and Demi Lovato who is just a lazy, flabby, self-entitled bitch.


Demi Lovato needs to learn the only way she is ever going to even remotely sexy is if she loses weight, wears the burka, and prostrates herself before a Muslim man. Even then it would be quite a stretch to call her sexy.