---

Miley Cyrus goes completely topless while frolicking in the ocean in the pictures below from her Maui vacation.


Miley is always on the cutting edge when it comes to shameless displays of depravity, so it is not surprising to see her brazenly exposing her perky little tits in public like this. For Miley knows that as the West continues its rapid decline it will soon become commonplace for women to walk around with their sinful breast meat flapping in the wind for all to see.


No sane person can look at these Miley Cyrus topless pictures, and still think that the burka is not a good idea. A woman's body is an abomination and a danger to civilized society. This is something the infidel Western world is going to have to learn the hard way, as trailblazing exhibitionists like Miley continue to push the envelope and inflict them with their exposed sex organs.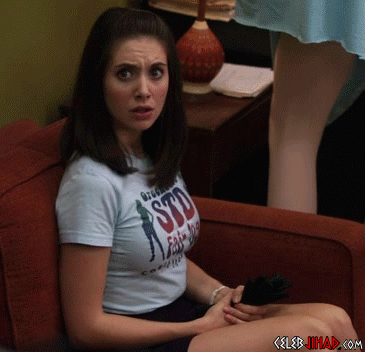 ---

"Community" star Alison Brie was caught on camera suffering an asthma attack in the GIF above.


As you can see by her perky heaving bosom and the look of sheer terror on her face, Alison Brie is either experiencing an asthma related bronchospasm, or she just caught sight of a Muslim man's enormous manhood and he is coming towards her with the intention to sodomize twinkling in his eye.


Of course since Alison Brie is a vile actress and Jewess this busty panicked heavy breathing is almost certainly asthma related, and probably the result of her overindulging in the average infidel woman's favorite pastimes of smoking the crack pipe and dark skin cock. If Alison just lays off the rock (the wrestler, comedian, and the drug) for a few days she should be right as rain in no time.

---

My fellow Celeb Jihadist, today is a day that will live in infamy. For Islam has been deliberately and viciously attacked by the floppy old lady celebrity tits of Heidi Klum, Courtney Love, and Chelsea Handler.


This "Sagocaust" was premeditated by the Zionists under the code name "#FreeTheNipple", and started with worn out model and mudshark Heidi Klum being photographed topless while vacationing in St Barts.

The attack then quickly escalated as washed up comedian and TV host Chelsea Handler posted this photo of her sloppy milk sacks to her Instagram account.

Of course nothing could of prepared us for what happened next, as former "rock star" Courtney Love then went on her Instagram and inflicted us with the monsterous topless photo of herself below.

No matter how long it may take us to overcome this most heinous of titty sneak attacks, I am confident that us Muslim people in our righteous might and unbounding determination will recover and gain the inevitable triumph. May Allah give us strength in our time of need.
---

16-year-old "Modern Family" star Ariel Winter shows off her teenage tig ol' bitties at the People Magazine awards in the photos below.


As you can see, Ariel Winter is a fine piece of livestock that any Muslim man would be proud to have chained up out in his barn. From her squat sturdy frame to her enormous bulbous breasts, Ariel is the type of girl that could plow 10 acres with two future Jihadist babies suckling at her teats.


Yes it is clear from these photos that Ariel Winter's considerable "talents" are being wasted in heathen Hollywood. Let us pray that she is abducted by Syrian merchants and sold off to a virile Muslim who can utilize Ariel's full potential, before she is forever defiled by a gang of American abids who will no doubt be drawn to her thick basketball shaped titty meat.

---

Taylor Swift poses completely topless while riding on the Hudson ferry in New York in the never before seen photo above.


New York is actually one of the few cities in the world in which women are legally allowed to brazenly flaunt their bare breasts, and Taylor Swift appears to be taking full advantage of this fact to publicly show off her perky little tit meat in this pic.


Of course it comes as no surprise to us righteous Muslims that an urban hellscape and cesspool of degeneracy like New York City would be OK with a woman's sinful chesticles out flapping in the wind. As more progressive cities like London have agreed to let us Muslims establish Shariah law zones within their borders, New York continues to stubbornly resist the modern ideas of radical Islam. The result of this sort of backwards thinking is Taylor Swift topless and the righteous retribution that will surely come.

---

Emilia Clarke finally poses topless while she is not starring as "Mother of Dragons" Daenerys Targaryen on the hit HBO series "Game of Thrones".


It is good to see that in real life Emilia Clarke is just as eager to show off her tits as her character is on "Game of Thrones". For Emilia is much more attractive with her natural brunette hair, so much so in fact that I could not resist allowing her to temporarily join my harem after seeing this topless pic.

As you can see in the photo above, I wasted no time in covering Emilia Clarke's face with my precum. If she continues to serve me well, I may just blast her entire face with by baby batter. A real treat for Emilia, for not only is a facial from a Muslim man like myself a tremendous honor, but it is also a powerful exfoliant as the coarse acidic nature of our semen has been known to strip away quite a few layers of skin leaving the recipient with a fresh-faced youthful appearance.