---

Nickelodeon star Victoria Justice appears to show off her bare butt in the cheeky photo above.


It looks as though Victoria Justice is lifting up her ass to let out a fart. No doubt it will be a wet fart which will cause an ooze of lube, semen, gerbil bones, and rancid anal juices to drip down the inside of her legs.


Victoria Justice will probably then collect the ooze, bottle it, and sell it in Japan, as Japanese businessmen are known to pay top dollar for the ass spillage of Western whores for both its complex flavor and to satisfy their depraved sexual desires.

---

Miley Cyrus shows gratuitous amounts of tits and ass for the new issue of V magazine.


Of course as a converted Muslim Miley Cyrus is only showing off her sinful feminine sex organs to point out the degenerate nature of the typical Western female.


As you can see in the photos below, Miley Cyrus is making a mockery of the way an average infidel woman dresses and acts. Miley even goes as far as to flash some nipple in this photo. Clearly Miley Cyrus is a brilliant performance artist and true advocate for Islam.
---

At 17-years-old Kardashian sister Kendall Jenner's biological clock is certainly ticking, and thus so is her viability of becoming a Muslim's wife.


In a last ditch attempt to get her married off before she descends into darkness like her mudshark half-sisters Kim and Khloe, Kendall Jenner was taken to Greece and put in a thong bikini to advertise her wares in the photos below.


Unfortunately for Kendall I am not seeing much in these thong bikini pictures that would pique a Muslim's interest, as her narrow hips do not bode well for birthing, and her weak frame does not look up to handling field work.


I am afraid the best Kendall Jenner can hope for is to serve as a concubine for a Muslim man who is into rough anal with skinny girls. Of course this life is infinitely more favorable to getting involved with black guys like her half-sisters Kim and Khloe Kardashian.
---

Multi-talented actress, singer, and converted Muslim, Miley Cyrus walks around the streets of LA with her butt hanging out of her short shorts in the photos below.


Once again Miley Cyrus is making a brilliant social commentary on the depraved nature of Western culture. By walking around in public with her ass cheeks hanging out Miley is exposing the wretchedness of the American people, as not one of them has the moral fortitude to stone her for this debauchery.


Yes Miley Cyrus in these short shorts pictures is like a mirror reflecting the immorality of the West, and it has inspired us true Muslims to double our efforts to wipe the great Satan America and its supporters off the face of the earth once and for all.
---

Actress Natalie Portman appears to bend over and show her naked ass in the photo above.


Natalie Portman is a known Mossad agent, so clearly this naked picture is some sort of Zionist trap to ensnare the enormous manhood of a virile Muslim.


Because of Natalie Portman's haircut a Muslim man may confuse her for a "dancing boy", and once his mighty tunic snake is firmly implanted in her anus Natalie's Israeli accomplices can pounce and rob the man of his gold and coupons. Truly Natalie Portman is a most devious Hollywood harlot!

---

Natalie Portman appears to show her shameful nude female hindquarters in the disturbing photo above.


Why Natalie Portman decided to take this graphic nude pic is still a mystery, but since she is a Jew it is safe to assume it has something to do with making money and/or devil-worship.


Whatever this Shebrew is planning rest assured that us pious Muslims will continue to have our eyes fixed on Natalie's tight anus and baby cave, ready thwart any Zionist scheme that may come forth from these most vile lady holes.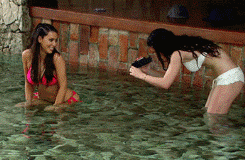 ---

Tragedy struck earlier today as a tsunami ripped through parts of Southern California leaving a trail of death and destruction in its wake.


The cause of the tsunami was soon revealed to be Kim Kardashian, who was caught on camera recklessly bouncing her enormous ass in water with no regard for the lives of others.


The waves emanating from Kim Kardashian's butt were estimated to be as high as 150 feet, as they tore through the nearby area causing unspeakable damage. Authorities fear that Kim may attempt a canon ball next, which would assuredly wash away all the low-lying coastal areas in the region.