---

Actress Emma Stone lets out a massive noxious fart (smelling of Earl Grey, cinnamon, and brie) blowing up her mini skirt and exposing her red panties in the GIF above.


Clearly this farting upskirt is all part of Emma Stone's publicity tour for "The Amazing Spider-Man 2″ which is set to be released in May 2014.


After eating at a Chipotle Emma's character in the film "Gwen Stacy" acquires the superpower to shoot powerful blasts of air out of her anus. Then alongside her boyfriend Spider-Man Gwen will battle the dastardly supervillains of Oscorp by bending over and firing her ass wind. Stunning the evil-doers with its pungent aroma, so that Spider-Man can shoot them with his webs.

---

Pop star Katy Perry gives us a peek at her stockings and (possibly see through) panties while massaging her foot in the photo above.


Obviously Katy Perry's foot is aching from having been in stuck in boyfriend John Mayer's gaping ass all night, as Katy Perry's fists just aren't getting the job done anymore.


Of course John Mayer won't be too pleased with Katy Perry after seeing this upskrit photo, as he keeps his women on a short leash… and he doesn't approve of them borrowing his panties (reportedly the cause of his breakups with Jessica Simpson and Jennifer Love Hewitt were both panties related).

---

Salma Hayek gets her skirt blown up revealing her thong while on the set of her new movie "How to Make Love Like an Englishman" (which I can only assume is a film about pasty dudes "shagging" each other in the "fanny") in the photos below.


Obviously this thong upskirt is all part of Salma Hayek's character, as I'd bet my prized goat that she is playing a saucy vivacious latin woman who is going to teach these uptight middle-aged British men how to loosen up and live life to the fullest.


Of course in real life when an Englishman sees these Salma Hayek upskirt thong pictures it does not inspire him to live more carefree, but rather to secretly get more women's underwear to wear under his neatly pressed three-piece suit.
---

Emma Watson shows off her leg almost making an upskirt shot in the photo above.


Of course if Emma Watson had her way she'd be spread eagle, but she is being crowded on that couch by some homoqueer with a fedora.


Clearly Emma Watson is a whore without shame who will take any opportunity to prostitute her body. Thus Emma is certainly without hope of redemption and should be stoned most righteously… right after that damn guy with the fedora.

---

Victoria Justice tries to blind us by flashing her shiney silver panties in the upskirt photo above.


Much like starring directly into the sun, looking at Victoria Justice's crotch will fry your retinas as it is also a turbulent concentration of powerful noxious gases.


Thankfully the vision of us pious Muslim men is safe from the effects of Victoria Justice's nether regions as staring into the vast seemingly unending abyss that is her sinful lady parts does not interest us in the least.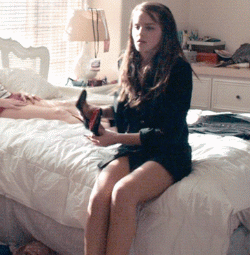 ---

Emma Watson flashes her under butt in this upskirt scene from the movie "The Bling Ring".


For years this holy Muslim celebrity gossip site has warned that Emma Watson is nothing but a depraved whore, and now with this upskirt under butt flash there can be no doubt that once again we were right.


The infidels better not come crying to us Muslims to come stone Emma Watson now that they are up to their eyeballs in her under butt. Instead let this be a lesson to the kuffars that when us Muslims pass our righteous moral judgements they better listen up, or they will suffer the consequences… the sickly pale flabby consequences.