---

Victoria Justice shows off her toned bare belly and legs while attending some fancy LA party in a crop top and short skirt in the photos below.


As you can see, Victoria is wearing her skirt backwards so that the zipper is in the front to allow for easier access to her well used lady box. No doubt moments after these photos were taken, Victoria got sloppy drunk and went into a bedroom with some junior agent at William Morris to "talk about her career"… with his fingers knuckle deep inside of her.


Yes it is clear from these pictures, that Victoria Justice is just another Hollywood party girl. She will probably be checking into rehab for "exhaustion" any day now, before checking herself back out a week later so that she can pen an article for Cosmo about how she conquered her demons and healed the scars from missing out on her childhood while starring on Nickelodeon through a juice cleanse and daily coffee enemas.

---

"Eye Candy" star Victoria Justice spreads her legs wide open while laying around naked in the photo above.


Not only is Victoria Justice naked not "eye candy", but it is certainly not nose candy either, as Victoria is clearly trying to air out her stinky dank lady cave in this photo. In fact, just by looking at this pic one can almost smell the pungent aroma of wet dog and underarm sweat that no doubt emanates from Victoria's cock box.


Thank Allah that the Internet can not transmit smells. However, one day that technology will almost certainly be possible, and when that day comes a person would not want to be down wind of any naked Victoria Justice pictures less they want to revisit with their lunch.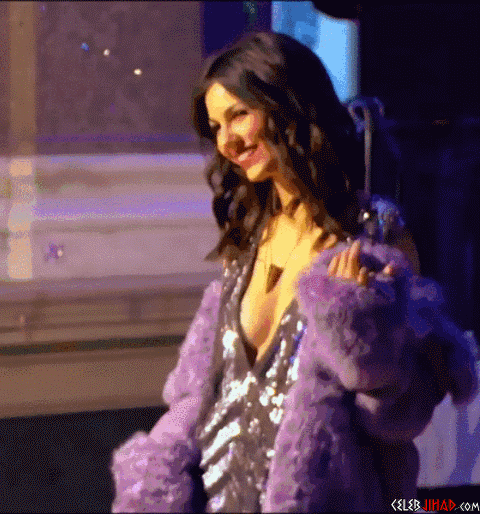 ---

Victoria Justice shows gratuitous amounts of her sinful sideboob in the disturbingly slutty GIF above.


Victoria looks like a cheap New Year's whore (which is a change from her normal look of just a cheap whore), as she flaunts her pert breasts with no bra on in this extremely low cut shiny silver dress.


Yes Victoria looks like the type of girl that you'd drunkenly fingerbang in a broom closet at a party as the clock struck midnight. Of course if you ignored the ominous odor which no doubt emanates from her lady parts and decided to take Victoria on the train to pound town, you'd probably be starting the New Year off on a intense regimen of antibiotics and topical creams.

---

Victoria Justice takes her top off, only to reveal that she is wearing yet another top in this GIF from her new MTV show "Eye Candy".


Even after her topless photos leaked during "The Fappening", Victoria Justice still pretends that she is a "good girl" who is far too chaste and moral to expose her baby feeders on camera. Clearly Victoria is extremely delusional if she thinks anyone is still buying her sweet little angel act, as she has been exposed as a vile whore who is in desperate need of a good hard lapidation.


If Victoria continues to carry on with this charade of virtue her hypocrisy will only anger us Muslims further, and it will make our righteous wrath exponentially more ferocious. So the next time Victoria Justice takes off her top on camera we better see some tit meat popping out, or one day she may find herself on tape in an orange jumpsuit kneeling in front of a mujahideen who will literally take her top off for good with his scimitar.

---

A sex tape music video featuring former Nickelodeon star Victoria Justice appears to have just been leaked to the Web.


As you can see in the video below, a cock hungry Victoria Justice prances around while fantasizing about performing various sexual acts with her best friend's brother.

Of course the sort of horny obsessive behavior Victoria Justice is exhibiting in this sex tape video is to be expected, as Victoria's clitoris is uncut allowing for all sorts of lustful djinns to infect her conscious mind.

Women are naturally weak both in spirit and in mind, so a woman with an unshorn clit like Victoria Justice really stands no chance against sinful sexual desires and will be in a constant state of arousal. What Victoria should be pining for is her best friend's barber not her best friend's brother. For he is the one that can lop off her sin bean and free her from her compulsive carnal yearning.

It is that magical time of the year again, were Christians celebrate the birth of their hippie Jew God Jesus by exchanging shoddily made in China consumer products.


To counteract this shameful consumerist aspect of the holiday, below are the top 10 photos of celebrities truly exemplifying the Christmas spirit of giving by whoring their bodies in slutty Santa outfits.


#10 Ariana Grande

Ariana forget her Santa hat, but she remembered her giant phallic symbol candy cane while in her red sequin slut suit.
---

#9 Dove Cameron

Disney star Dove Cameron may have just turned 18, but her clothes are already falling off of her nubile body. No doubt this Christmas strumpet parks herself right under the mistletoe.
---

#8 Victoria Justice

Nothing says Christmas quite like black leather hooker boots and candy cane striped booty shorts, as Victoria Justice opens her mouth wide and signals that she wants one naughty elf for each side of her, for a sex position known as a "Santa's sleigh".
---

#7 Kendall Jenner
Of course as a member of the vile gypsy scum Kardashian clan, Kendall Jenner celebrates Kwanza instead of Christmas. Though that won't stop Kendall from gifting this slutty Santa lingerie outfit to her father, transsexual Olympian Bruce Jenner.
---

#6 Taylor Swift

Taylor Swift was extra good this year, so that Santa would bring her what she really wants… more Victoria's Secret model pussy to munch on.
---

#5 Mary Elizabeth Winstead

"Scott Pilgrim vs. the World" star Mary Elizabeth Winstead shows off her long legs in this extremely short Santa dress. It is just too bad there wasn't a pious Muslim around when this photo was taken, for he would have shoved that giant candy cane right up Mary's chimney… curved side first.
---

#4 Selena Gomez

Selena Gomez also shows off her legs while in a short Santa dress. However, Selena does it while singing "Feliz Navidad" before starting her donkey show in Tijuana.
---

#3 Maitland Ward

Former "Boy Meets World" and current professional attention whore, Maitland Ward shows off her hard nipples and ample cleavage in this chilly Santa outfit.
---

#2 Katy Perry

Katy Perry shows off her Xmas ass or "Xmass" in this upskirt slutty Santa outfit.
---

#1 Miley Cyrus

It should come as no surprise that this photo of Miley Cyrus in a Xmas red leotard twerking her ass on a crackhead Santa would be our #1 photo. For no one is more full of the Christmas spirit then Miley, as she has her stocking stuffed, halls decked, bells jingled, and chimney plugged with nutmeg all year long.