---

Mila Kunis gets naked and on all fours while laying on her bed in the photo above.


It is great to see this Western whore Mila adopting a hala prostrated sex position. However, what makes her think we would want to see her unsightly face in this position?


The whole point of the face down ass up position is so that the man can sniff and then examine Mila Kunis' hindquarters. If after careful inspection they appear to be satisfactory, and capable of bearing a masculine child he will enter her and spill his seed.


If Mila Kunis wants to get her face hole pounded then she should be on her knees with her eyes downcast and mouth agape. Otherwise the photo should be taken from the other side, so that her sexual fitness can be determined.

---

Well it is official, Mila Kunis and Ashton Kutcher are engaged. Mila and Ashton first met on the set of their hit Fox show "That 70′s Show" when Mila was just 15-years-old.

The ring appears to be a large pear-shaped solitaire set on a platinum band.
Despite their characters having an ongoing romance on the show, Ashton was not at all interested in nubile Mila, and instead married old hag Demi Moore. However now that Mila Kunis is 30-years-old, and she looks like someone let the air out of her, Ashton did not hesitate to lock her down for good.
After flashing her new diamond engagement ring, Mila Kunis then celebrated her upcoming nuptials further by flashing her old vagina in the photo above.
The vagina appears to be a hairy pear-shaped clam set between scars from genital warts
No doubt as Mila Kunis' vagina continues to age (poorly I might add) it will appreciate in value in Ashton's eyes, unlike that diamond engagement ring which is a grossly inflated in value piece of glorified carbon popularized for the profit of Zionists.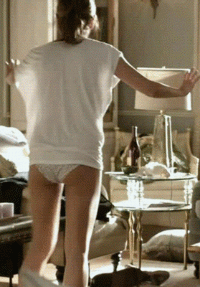 ---

Actress and Jewess Mila Kunis shows off her tight little butt in white panties in the GIF above.


It appears as though Mila Kunis is in a panic while looking for her last vial of Palestinian baby blood. As we all know Jews need to drink the blood of the Palestinian people to maintain their human form or they will shape shift back into the reptilian hell beasts that they truly are.


Let us hope that Mila Kunis can not get her grubby Christ killing hands on some blood in time, and that she slithers her tiny ass back to the underworld.

---

The extended version of Natalie Portman and Mila Kunis' epic lesbian sex scene from the movie "Black Swan" has just leaked to the Web.


As you can see in this video, "Black Swan" didn't show half of the action as Mila Kunis eagerly lapped away at Natalie Portman's warm moist sin box.


In fact sources behind the scenes reported that the director had to turn the hose on Natalie and Mila to get them to stop vigorously licking, sucking, and scissoring each other's swollen dripping meat mounds. Truly a disturbing image that could only happen when horny lesbodykes like Natalie Portman and Mila Kunis get together for a sex scene.

---

Actress and Zionist Jew Mila Kunis insults Islam by wearing sheer nylon pantyhose in the photo above.


Pantyhose are a mockery of the holy Islamic burka. The fact that Mila Kunis' legs and hindquarters could be completely covered in this photo, but are instead accentuated through these pantyhose is a clear provocation against us Muslims.


Yes this Mila Kunis pantyhose insult will not be forgiven or forgotten. When us Muslims finish conquering the West we will have our retribution. Perhaps we will put rocks in some pantyhose and beat her with it, or better yet, we'll stone her while wearing pantyhose ourselves… I don't know just throwing out some ideas.

---

Mila Kunis looks horny while stripping naked before bed in the shameful photo above.


Clearly Mila Kunis hopes that by going to bed naked she'll convince a virile Muslim man to break into her home while she sleeps, and forcefully fornicate with her.


Of course this is a common infidel female fantasy, but unfortunately for Mila Kunis and her fellow lecherous sleepers us Muslims would never have sex with their sinful impure Western female bodies. Not even if it was forced sex which everyone knows is the best kind.


Besides Mila's gate is too high, I cut myself on some bushes trying to climb over, and those high-pitched alarms and super bright flood lights she has is a major turn off.