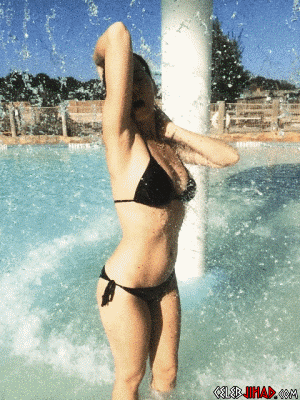 ---

Katy Perry shows off her body in a tight wet black bikini while at a water park in the GIF above.


How dare Katy Perry prostitute her feminine body like this! Being at a water park is no excuse for a woman to expose her sinful flesh, especially when she is as immodestly busty as Katy Perry.


Katy Perry should be wearing a swim burka, as the sight of the water glistening off of her cleavage is extremely offensive. When Islam takes over the West all women at water parks will remain covered from head to toe, or the lifeguards on duty will enforce Sharia law and toss them in the wave pool with an anchor around their neck.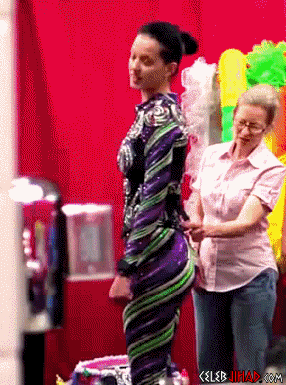 ---

The Blessed Prophet Muhammad (PBUH) was not only the most masculine man ever to walk the earth, but he was also the most virile. So it should come as no surprise that even in death Muhammad is still an accomplished cocksman, and he often ventures down from Paradise to plow unsuspecting busty women and tight smooth boys.


With that in mind, the video in the GIF above clearly shows the specter of our Blessed Prophet once again turning pop star Katy Perry around and pounding her with his enormous supernatural cock. Of course this is now the third time (here are the first and second) that Muhammad has honored Katy with a mighty phantom f*cking.


Why Muhammad keeps visiting Katy Perry's sin hole is anyone's guess, but one can not help but speculate that perhaps it reminds a nostalgic Muhammad of his boyhood home in an enormous damp cave on the outskirts of Mecca. Or it may be as simple as Katy Perry being a quick in and out, and Muhammad being a busy man in the afterlife tormenting the Jews burning in the eternal hellfire. I don't know, so I'll leave it to Islam's top scholarly minds to try and figure it out.

---

As you can see in the video above, Katy Perry was performing in concert when her vagina briefly slips out of her multicolored slut suit.


In an effort to try and silence the piercing screams of her homoqueer fans, Katy Perry thrusts her hips unleashing her labia, but it is to no avail as the knob gobblers continue their high-pitched squawking.


Unfortunately for Katy Perry her lady bits have become so swollen from years of abuse that they might as well be an infidel's c*ck, and so they can no longer repulse flaming homoqueers. In fact Katy's bulge is no doubt drawing these homos to her crappy pop music. It is the same thing that happened with Madonna, only she embraces her gay icon status and enjoys getting her lady dick sucked.

---

Pop star Katy Perry squats down naked while in clear heels in the disturbing photo above.


In the degenerate Western world wearing clear heels is a sign that someone is a "woman of the night" AKA a whore. Of course from a legal perspective we would never explicitly say that Katy Perry would suck your dick for $20, but you can certainly draw your own conclusions about her proclivities from this naked photo.


Yes after seeing this clear heels naked photo it appears extremely likely that Katy Perry is now a common street walker. Of course if Katy were to work in the sex trade in the superior Islamic world all doubt would be removed about her profession, as all our concubines walk bow legged from getting continuously pounded out by the enormous tunic snakes of us virile Muslim men.

---

Katy Perry has kinky BDSM lesbo sex with her lookalike and possible long lost sister Zooey Deschanel in the extremely disturbing photo above.


As you can see, Katy Perry has Zooey Deschanel bent over a table and chained up in her freaky sex dungeon. Both Katy and Zooey appear to be enjoying themselves immensely as Katy pounds Zooey's holes with her 12 inch strap-on.


No doubt after Katy finishes stretching Zooey's orifices with the strap-on she will want to work over Zooey's nipples with some clamps and clothespins. Then she'll probably have Zooey drink some urine (either her own or an animal's) before finally finishing Zooey off with a vigorous flogging off her ass and lady bits. All and all it is a pretty standard BDSM routine that us Muslim men often use on our wives and concubines to great effect.

---

Pop star Katy Perry lays naked on her bed in the scandalous photo above. This naked photo proves that not only is Katy Perry a tremendous whore, but she is also extremely lazy.


It is hard to say which is the more offensive part of this Katy Perry naked picture, the exposed sinful female sex organs, or the fact that Katy is neglecting her chores. However, one thing is for certain this Katy Perry nude proves that when left to their own devices women are nothing more than immoral layabouts.


Yes Katy Perry laying around naked is the perfect illustration of why us Muslims are completely justified in the beating of our women. For without the firm hand of a man to guide them down the path of righteousness, the weak minded females will succumb to base temptations. The holy Qur'an teaches us that "if you spare the rod you spoil the woman", and Katy Perry has reiterated the wisdom of these words with this slothenly naked picture.