---

Former Disney star and "The X-Factor" judge, Demi Lovato appears to pose nude in this photo shoot for Playboy magazine.


Demi Lovato recently made headlines when she declared that, "I have nothing in common" with former friend and fellow Disney alum Miley Cyrus. Well after seeing the nude photos of Demi below, I couldn't agree more with her assessment.


For Demi Lovato is a washed up, fat bulimic cutter, and a tremendous whore. While Miley Cyrus (along with Brother Obama) is a successful chaste secret Muslim on a holy mission from Allah to bring about the end of heathen Western civilization. Besides if Miley Cyrus (or Brother Obama for that matter) were to do a nude photo shoot for Playboy, you better believe she wouldn't half ass it like Demi did, and she'd be spreading her butt cheeks for the camera.

---

Jennifer Lawrence nips out while in a silk nightie in this scene from her new film "Serena". "Serena" doesn't come out in theaters until March 2015, but already it is evident that this is going to be yet another deeply depraved movie from Jennifer Lawrence.


"Serena" is supposed to be an autobiographical film about the life of famed women's tennis player Serena Williams, but as you can see the producers have taken quite a few liberties with the script as Serena is being played by a small white girl (Jennifer Lawrence) and not a western lowland gorilla.


Bradley Cooper also stars in this film, and will play Serena's tennis coach and main handler "Chip Flanagan". Infidel movie audiences usually love the onscreen chemistry between Bradley and Jennifer (as they have starred in numerous critically acclaimed films together now), and they won't be disappointed with "Serena". The sexual tension between Jennifer and Bradley is electric throughout the film, and culminates with a passionate love scene in which Chip enters Serena's cage and f*cks her with a banana after she wins her first Wimbledon title.

---

"Modern Family" star Sarah Hyland shows off some deep cleavage during her 24th birthday party in the photos below.


Sarah Hyland's 24th was your typical Jewish girl's birthday party as it featured cake, slutty outfits, ghoulish looking guests, and of course a ritualistic blood sacrifice to Satan (this year it was a homeless guy Sarah found sleeping outside a bus station).


Yes there really isn't much to say about these Sarah Hyland birthday pictures besides that her and her tits certainly appear to have had a really good time partying it up with these weirdos. If Sarah's freaky guests followed her gift registry and bought her more gift certificates to Dr Finklestein's Cosmetic Surgery Center, maybe next year her boobs will look even bigger (and her nose even smaller) as they hang out of her whorish birthday dress.

---

Selena Gomez thought she could get away with mocking Islam by not wearing a bra in a shoddy thin burka at the American Music Awards, but she was wrong and now the joke is on her.


As you can see in the photos below, scientists at the Celeb Jihad Research Institute in Riyadh were able to adjust the filters on Selena's braless photos (using a technique known as X-raying) to expose Selena Gomez's shameful nipples for all the world to see.


Now that Selena's saggy sad tit flesh has been revealed, we fully expect morality charges to be brought against her in Shariah court. Once Selena is brought to justice, she will certainly have no answer for her numerous crimes of the flesh, and the sentence passed down will no doubt be lapidation. Then there will be much celebrating throughout the civilized Muslim world, with AK-47s shot into the air, and Toyota trucks packed with revelers racing through the streets blasting their horns while the sweet smell of gasoline soaked American flags burning wafts through the air.

---

Ariana Grande pleased her Zionist masters greatly by putting on a slutty gold studded performance at the American Music Awards last night.


There are two things that the Jews who run the entertainment industry love more than anything else, and those are gold and profiting from promoting degeneracy. As you can see in the photos below, Ariana Grande was able to combine both of these beloved Hebrew pastimes in one performance by showing off her tight little ass and firm legs while in a gold slut suit.


Not only did Ariana Grande expose her nearly nude nubile body in these pictures, but at one point she also "dropped it like it was hot" and simulated riding a dick on stage.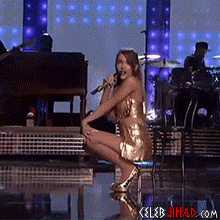 No doubt Ariana Grande often performs this reverse cowgirl position, while contracting AIDS from her abid rapper boyfriend "Big Sean".
---

Selena Gomez completely embarrassed herself while not wearing a bra at the American Music Awards in Los Angeles last night.


As you can see in the photos below, when Selena Gomez wasn't flaunting deep cleavage while in the audience dyking out with Taylor Swift and her girlfriend Karlie Kloss, she was performing on stage crying about how much she misses Justin Bieber's tiny pecker inside of her, and mocking Islam by walking the red carpet in a flimsy burka with her nipples clearly poking through the fabric.


Yes Selena Gomez made quite the fool out of herself as she paraded her sloppy Mexican tits around the AMAs. Thank Allah Selena's voice sounds worse then the whining of the mules back in her donkey show days in Tijuana, for this should be the last time Selena ever gets invited to the AMAs (or any music related award show for that matter).