---

As you have no doubt have heard, recently Allah unleashed his wrath upon the heathens in Oklahoma through a powerful tornado that killed 91 people.


However, actor Bill Paxton is apparently "not impressed", and is tired of hearing all the bellyaching coming from the survivors. Reportedly Paxton has told friends that he faced far larger tornadoes in the 1996 blockbuster "Twister", but you don't hear him crying about it.


"I just think the performances of the survivors are a little overdone. You want to capture the magnitude of the moment, but without coming off as a crybaby", said Bill before adding, "The news should interview my co-star Helen Hunt. She knows how to convey the devastation of these storms with dignity."


Paxton went on to say that, "I just wish that I was in Oklahoma at the time of this twister, so that I could have unleashed some glowing orbs into it… it would have saved lives!"

---

It looks like Apple has just released the prototype for their sex doll of "Vampire Diaries" star Nina Dobrev.


As you can see this Nina Dobrev sex doll features the ease of use functionality Apple is famous for, with simple color-coded buttons for oral, anal, and normal sex.


In a vast improvement over the real Nina Dobrev this sex doll's voice box can not form actual words, and instead only omits guttural moans. Also the Nina Dobrev sex doll's vagina and anus is considerably tighter, and an estimated 90% less crab-ridden.

---

Model and Orlando Bloom's cum receptacle Miranda Kerr suffers the extremely rare double boob slip in the photos below.


These sort of wardrobe malfunctions happen when women like Miranda Kerr wear the shoddy clothing of the infidel West instead of a robust and sturdy burka.


Orlando Bloom must punish Miranda Kerr for showing her breasts like this, and bring dishonor to himself and the Bloom clan. Since this was clearly an accidental boob slip, Miranda Kerr could get off easy with a simple acid face burning and banishment.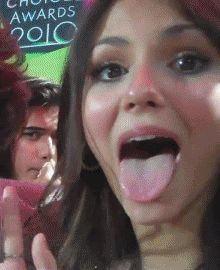 ---

When a reporter asked Nickelodeon star Victoria Justice "Where do you like to take a guy on a first date?", Victoria respond by crudely opening her mouth and showing her tongue as you can see in the video above.


Victoria Justice clearly misunderstood the reporter's question, but it should come as no surprise that the horny drug-addled mind of an infidel woman would assume he was asking about dick.


Though it is good to know that Victoria Justice gives blowjobs on the first date. If she doesn't have a gag reflex and can dislocate her jaw, I might take her out for an ice cream and then feed her my enormous tunic snake while pumping her belly full of my potent Muslim man juice.

---

It looks as though actress Summer Glau just had the above sex tape video leaked to the Web.


Summer Glau has a hardcore nerd following due to her role as "River Tam" in the Sci-Fi TV series "Firefly", but what these dorks didn't know is that when Summer isn't pretend fighting aliens on TV, she is filming herself getting f*cked raw dog by some frumpy slob.


Needless to say mom's panties are going to have a few new mysterious stains on them as Summer Glau's basement dwelling mouth-breather fans jerk off while watching this sex tape video.
---

Degenerate old bag Eva Longoria lifts up her dress to show her bare vagina at the Cannes Film Festival in France in the photo above.


Of course the most shocking thing about this vagina flash is that Eva Longoria appears to have a tampon string hanging out of her decrepit stinky Mexican baby cave.


Eva Longoria's fertile years are long past, so the tampon must be there to keep her uterus from falling out. After years of being a mudshark basketball groupie, Eva Longoria's lady junk appears to have been permanently ripped open.

---

Nickelodeon star Ariana Grande has just been named Hollywood's "most rapeable" actress.


Ariana Grande certainly seems to be "asking for it" with her doe-eyes, pouting lips, and exposed arms. If a man were to abduct Ariana and chain her up in a basement for his sexual pleasure, he certainly couldn't be faulted.


In fact under Islamic law it would be the temptress Ariana Grande who would be punished for seducing the poor kidnapping rapist into committing the sin of premarital sex with her whorish behavior, and she would be stoned most righteously.