---

Selena Gomez spreads her legs while laying in bed in the nude photo above.


Leave it to a typical lazy Mexican like Selena Gomez to not even bother getting out of bed after her "siesta" to prostitute her sinful nude body. I guess Selena figures that if she airs out her lady hole the smell of rotten flautas and refried beans will attract her male suitors.


It is one thing for Selena Gomez to be a brazen Jezebel, but she does not have to be slothful about it. Take pride in your work Selena, and go out there and whore that ass as you have been trained to do since your days working on the Disney channel. For remember the old Mexican saying, "the donkey will not come to you, you must go to the donkey".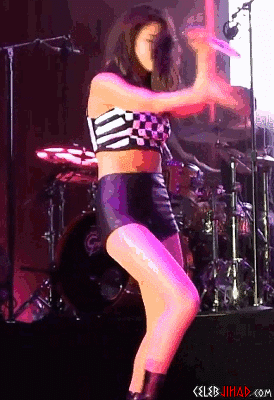 ---

Selena Gomez performs an extremely slutty Mexican hat dance in a crop top and tight black leather short shorts in the GIF above.


The Mexican hat dance or "Jarabe Tapatío" is a proud custom in heathen Mexico, and traditionally involves a group of lazy tequila drunk Mexicans stumbling around a dirty sombrero that has fallen on the floor. However, Selena Gomez is an innovator and appears to have added a new sexual element to the dance by sticking her barely covered booty out while she twirls around the sombrero.


No doubt this Selena Gomez Mexican hat dance will soon become all the rage from Guadalajara to Chihuahua, causing a sharp spike in the already high Mexican birth rate resulting in an even larger influx of Mexican bottom feeders pouring into the United States. This wave of immigrants will tax the American infrastructure and finally cause it to collapse, and us Muslims will pounce and establish our caliphate and purge the lands of the infidels. And it will all be thanks to Selena Gomez and this slutty Mexican hat dance.

---

Selena Gomez lifts up her dress and flashes her vagina while out shopping for the holidays in the disturbing photo above.


Of course this vagina flashing was inevitable as Selena is just doing what she has been trained to do from her years working as a child star on the Disney channel, and in the Tijuana donkey shows before that. It is simply ingrained in Selena to show off her sinful sex organs whenever she is in front of a camera or wants to get something, and unfortunately this photo is the perfect storm as Selena wants to get that ugly shirt and is on camera.


No doubt Selena Gomez gets great deals on her holiday shopping by flashing her meat wallet in stores like this. Whether those discounts come from perverted store owners enjoying the view of her baby cave or persnickety ones worried about the ungodly stink from her lady bits infecting their merchandise, doesn't matter much to Selena as long as she gets what she wants.

---

Selena Gomez completely embarrassed herself while not wearing a bra at the American Music Awards in Los Angeles last night.


As you can see in the photos below, when Selena Gomez wasn't flaunting deep cleavage while in the audience dyking out with Taylor Swift and her girlfriend Karlie Kloss, she was performing on stage crying about how much she misses Justin Bieber's tiny pecker inside of her, and mocking Islam by walking the red carpet in a flimsy burka with her nipples clearly poking through the fabric.


Yes Selena Gomez made quite the fool out of herself as she paraded her sloppy Mexican tits around the AMAs. Thank Allah Selena's voice sounds worse then the whining of the mules back in her donkey show days in Tijuana, for this should be the last time Selena ever gets invited to the AMAs (or any music related award show for that matter).

---

As you can see in the behind the scenes photos above and below, Selena Gomez has begone work on a new movie with porn star Sasha Grey.

The film is tentatively titled "The Selena Sandwich", and will feature nearly 6 hours of hardcore action as Selena Gomez is banged hard from behind by numerous men of all ethnic persuasions while vigorously devouring Sasha Grey's lady box.

The movie is being touted as a "romantic comedy", as at one point Sasha queefs in Selena's face and the girls learn that true love was right in front of them all along. The producers hope to have "The Selena Sandwich" in theaters by February, just in time for the Valentine's Day movie rush. No doubt it will be a runaway hit with the depraved infidel moviegoing audiences.

---

Selena Gomez repeatedly flaunts her shameful sideboob while not wearing a bra in the disturbing photos below.


It is bad enough that Selena Gomez is dressed like a flaming homoqueer naval officer, but to brazenly expose this much tit meat out in public is just too much (especially while she is being groped by some depraved Hollywood Jew).


Yes Selena Gomez and her sinful breasts must be punished for this sinful sideboob display. Perhaps a vicious tongue lashing by us righteous Muslims will teach Selena's boobs some humility, as the rubbing of our coarse beards against her soft supple breast tissue would certainly not be a pleasant experience and would serve as fitting retribution. However, rest assured that if Selena's milk sacks remain obstinate we will not hesitate to whip out our enormous tunic snakes and repeatedly slam them up through her tit valley.